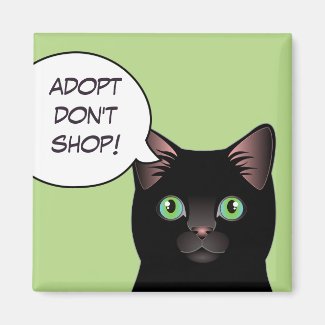 Designer Spotlight: Brenda Mousseau
Hello! My name is Brenda Mousseau and I live smack-dab in the middle of the Canadian prairies with my two cats, including an odd-colored eyed white cat name Sesshoumaru, who features heavily in my art. After years of working as an illustrator in traditional mediums,
I'm branching out into digital artwork. I love the crisp lines and bright colors vectors offer. And I love the fact that Zazzle products are so customizable – letting your customers tweak your products to match their taste is fun! The sky's the limit for my imagination here, and I love working in a funky, cartoon style.
My work features mostly animals in bright, pop art colors, that are cool yet still super-cute. I have lines that feature my own cat, a variety of other breeds, and merchandise that ranges from the merely pretty to adoption awareness.
Did you know that black cats are the least likely to be adopted because of stupid superstition?
Cats are popular and I love cats! I have number of products that cat lovers go crazy over. Including my "crazy kitty time" clocks. This particular line features images of my own cat.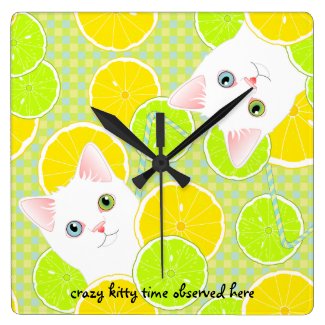 Crazy Kitty Time Lemonade Cat Clock
by
Vector_Kitty
Check out additional
Wall Clocks
online at zazzle.ca
Last but not least, I have a line of super-cool hipster geek dog products. Geared towards teachers, science and math nerds, pop culture aficionados, and anyone who likes cute stuff with an edge. These products lend themselves well to customization.
Thank you for the opportunity, and have a great day!
Brenda