Who is the greatest dad in the world? He is!! Tell him with these awesome fun dad gifts, perfect for Father's Day

Wonderful Range Of Engraved and Personalized Gifts For Dad including Sporting Accessories, Watches, Bags, Grilling Gear, Cufflinks and More! Great Value Items for Father's Day.
Top Ten Best dad gifts
Featured below are my top 10 picks for Dad Gifts. Most can be personalized to make them extra special.
These personalized golf balls are going to be a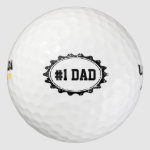 winning gift for any dad who loves golf. Imagine how much easier it will make identifying his ball on the golf course.
Price: $14.95
This personalized Growler Set is a great gift idea for dads. Imagine this in his mancave!!
This durable glass growler set features Dads family name and established year in your choice of 4 colors.
Price: $48.74
And here we have some complimentary items for Dads mancave.
A personalized bar sign, matching beer stein, coasters and humidor all in the design style of your choice. This Personalized Awesome Pub Set is an incredible gift for dad. It is perfect for Father's Day or his birthday.
Price: $186.96
Featured here is a large wicker fisherman's creel loaded with useful items and snacks for your fisherman dad. If your dad loves to fish he has got to love this awesome fishing themed gift basket.
Price: $84.99
I have another great gift basket pick for dads here. This one has a golf theme.  Loaded with all types of golf themed items which are sure to keep them driving down the fairway. Make a hole in one with this gift!
This makes a great golf gift for any dad. These golf balls are plated with a rich gold tone finish (not real gold} allowing for exceptional playability. Many golfers are surprised to find that these balls float! These sparkly balls will make finding them easier!
Price: $159.99
Your grill master dad will definitely appreciate this gift collection featuring a variety of treats, seasonings, and barbecue tools, all designed to make his next cookout a resounding success! Send a BBG Gift Basket today to your Grill King.
Price: $74.99
8. Mancave Barrel Sign Personalized
Add a rustic authentic touch to your dad's home bar, office, or man-cave with this real oak whiskey barrel lid sign. Made from authentic whiskey barrels, these real wood signs will add a touch of customization and class to dads home.
Price: $159.99
Engraved Father's Day Glass Picture Frame. This Picture Frame is engraved with your personal sentiment for your dad along with a lovely dad poem. Awwww
Price: $27.75
Personalized Guitar Lounge T-shirt - Custom Printed with your rock star dads favorite guitar.
Price: $19.43
.