Disabled athletes have put Disabled people who use canes, wheelchairs and other walking aids on the map but there is still along way to go to 'include' disabled men, women and children with wide ranging disabilities in the mainstream.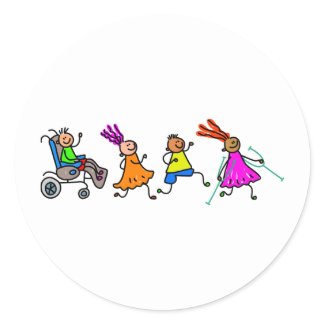 There is a lack of disabled people on Tv, in music, in fashion and in the media in general but they aren't ghosts. They are here, they're getting busy, they're active and they are achieving. They have 'ability'.
Disabled Kids Classic Round Sticker by prawny_kids
I have an online friend who is beginning to make a dent in this world helping disabled children to be loud and proud and super! Literally super. Check out what he's doing for them here and share and support his efforts.
Below are some clothing and accessories for being 'loud and proud' by Zazzle Designers. All items shown can be personalized online when you order to make unique gifts. Click any image to enter the store.