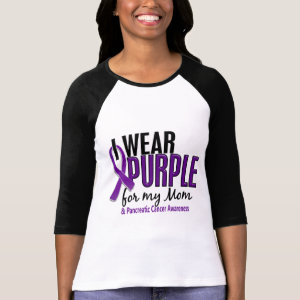 It's November and it is Pancreatic Cancer Awareness Month.
In my own life, A woman, mother, wife, daughter, sister, friend died a few months ago after a short battle with Pancreatic Cancer. It came from nowhere and took its host as quickly and suredly as it appeared. This death has left a hole in the hearts of those who knew her and a gaping wound in that of her children and husband.
Pancreatic Cancer is one of the lesser publicised cancers and as such perhaps has a small
er survival rate as a result. Is this fair? No .. there is nothing about any Cancer that is fair. All Cancers are bad.
I do though want to do what little I can to raise awareness and support for Pancreatic Cancer especially during the month of November and for the victims who are the families of those who lost their lives to Pancreatic Cancer.
Featured here are two T-Shirts that Cancer supporters can wear. They may act as conversation starters, opportunities to raise awareness.
I would like to send a shout out to fellow blogger friends, designer friends, Zazzlers to follow suit. Post a blog about Pancreatic Cancer – create a t-shirt, button, mug to show support. Spend just thirty minutes this month on this special cause. Those that are doing something for Pancreatic Cancer month let me know here and I will share the details.
Thank you and God Bless all for whom any Cancer has touched the lives of.