Following on from the success of my first Zazzle Store review  I am pleased to be reviewing the Zazzle store of Fashion Designer Hannah D'Agostino Inspired Me Studio.
First Impressions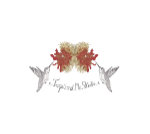 InspiredMeStudio
Hannah first came to my attention via a Zazzle Facebook Group as a new member and I recall that I wasn't quite sure how to 'take' her art. This itself inspired me to try harder to understand it and decide if I liked it or not. I honestly wasn't sure because it was so different to other design items seen on print on demand sites. This was the image that had me perplexed. ———->
I dug deeper and read Hannah's profile page 
"former fashion and design student"
Ah ha – I definitely need to look harder. Here was a trained out of the box artist and I was being presented with something 'new'. I felt so anyway. In conclusion I most definitely DO like it and the more I see it the more I like it.
The Artist
Hannah's design style is hand drawn 'line art' which is fortunate as it has become hugely fashionable and trendy. You will  find line art being used for logos, fabric prints, neon signs and more.
If you look around you will see just how popular this 'vintage' art design style has become. Line art IS the new black! It is that stylish. I am as such pleased to present you with something stylish and new and I feel – timeless in terms of home decor prints and accessories.
Hannah's inspiration comes from what she sees around her and my favorite of her designs is that featuring her pet 'Praying Mantis'.
It is superb and I love this media image (r) which shows the 'subject' standing 'on' the fabric creation he (she?) inspired.
Store Review
Hannah's store is fairly small (ish) as each product item is 'designed' individually. There are no 'mass creates' where one pattern is added to multiple items in a single click. Each item has been made individually to ensure the design fits the item correctly and that additional design elements can be added.
The store banner is as shown above – very apt and nicely done.
Product Page
It appears on first glance that categories are sorted by 'design' and yet I don't see a category for my favorite Praying Mantis. There are also a couple of 'photo' categories.
I feel this store given how popular line art is at present should be reserved purely for that type of art in order to establish a firm niche that customers can rely upon to meet their needs. They will become followers and frequent buyers if this is the case.
TIP: This tip applies to us all. Decide upon creating your store how you wish to proceed re categories. Do you wish to organize by product type, by design, by 'theme' or purpose. This is important as this will be the first page someone browsing your store is likely to look at and the 'order' needs to make sense in terms of guiding the viewer to where they want to be. This is one of the hardest parts of Zazzle store design because there are many options and which is best? A customer survey may be the way to go re 'us' getting the answer to that one. Note to self – organize one at some point.
Collections
At present I feel these are incomplete and as such do not adequately help a visitor with their task of finding a particular item, though 'search' is of course always available.
TIP: When the collection feature was introduced by Zazzle it was a requirement of store owners to have ten collections for each store. Which is why (no doubt) there will be a lot of hastily created collections in order to satisfy this requirement. I found that I could use the same ten collections for each store which given how many stores I have was quite a bonus discovery! That aside my advice for creating any collection is the same re creating a category. It needs to be 'complete' before you start creating another.
Products
I let the products speak for themselves and here I am pleased to present Hannah's wonderfully trendy line art home decor and accessory items.
Please do leave your feedback in comments and share with fellow Zazzlers who may benefit from these tips.
You can read the 3rd Zazzle Store Review Jesterful Here