Review Reflections
I have had a peep again at the stores I have so far reviewed and I have seen some of the tips I mentioned implemented which is super and I note definite improvement. It gives me a warm gooey feeling knowing I played some small part in that. 🙂
Meanwhile it's always been uncertain how many Zazzle customers actually find our products via our store fronts. For this reason store fronts generally have been neglected because as designers we never had anyway to gauge how many people ever saw them.
However now we Designers are more inclined (and required) to do our own marketing, the store front is now visible in ways it perhaps previously wasn't. We are using our store front as showcases. So with that in mind, if it wasn't important before, it sure is now. Keyword here 'showcase'.
Onwards – now reviewing Zazzle Store FlipFlopGranny (love this store name) of 

Paula Aliff Newell
Paula really is a granny and I would say definitely more glamorous granny than flip-flop granny as seen in the pics on her mugs! Paula has a really funny range of mugs with great memes featuring this bikini clad, holiday maker gran who sports the
skinniest legs ever seen. I hope those bikini bottoms aren't a thong! Paula clearly has an awesome sense of humor. Having visited her flipflopgranny.com blog I can confirm this to be the case and a talented writer to boot!
Paula's 'about' page is very thorough and just about the right length. Lots of interesting info. Only thing here I would say is 'add some line breaks'. We can't do this with the profile page of our account but I have noticed we can do so for our store 'about' pages.
The Showcase here is a featured collection of flipflop granny mugs. Normally I would advise a little more diversity, but I think as these funny granny mugs have universal and popular appeal this is in this case very appropriate.
The eye moves on from these to the category icons. These are fairly mixed in theme and not all are humor related.
Paula has a lot of superb original artwork – another painter folks!! I would showcase these paintings prominently as follows : Main Category named 'Original Art by Paula' etc. And within that category have subcategories for each design. Given the general diversity of design and media in this store I might be inclined to have group categories as follows: FlipFlop Granny humor, Other humor, Paintings by Paula, Photo Gifts and so on.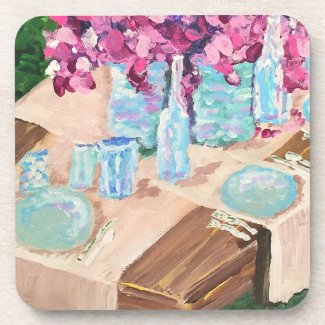 Garden Table Coaster Set by FlipFlopGranny
TIP: I note on some of the paintings featured in Paula's store, it doesn't say 'art work by Paula Newell' as such I am unsure if it is her own work or a public domain image. It is VERY important to take the credit for ALL your original artworks and highlight that they are unique and original to YOU! People WANT one of a kind items. When it comes to paintings and line drawings even more so. Imagine having a dinner party and a guest says:
"Stunning pillow – love the art"
You reply
"Thank you, it's a  print by Paula Newell"
They are bound then to ask "who is .. ?" and the conversation then flows into a discussion about you and your stores. It is a great way to spread your 'brand'. That guest may well go away, look up you the artist, find the store and become a keen customer.
There is no room for self-doubt. When it comes to original art works EVERYTHING has an audience and appeals to someone.
I often have people (relative strangers when I am out and about) compliment something about my person and it always does lead to a conversation about where I got it, how much it costs and so on. I know from friends this is quite unusual (for them at least) and I think I get approached this way due to my near obsession with quirky one-off items. My latest handbag for example – a toadstool. I have been asked about that bag by strangers maybe 5 different occasions to date. SO … don't be afraid to tell a story about your product – your story.
Products Page
Lots of categories, many grouped by product type followed by products. Great way to show diversity but not sure this is properly showing off Paula's best items. Refer to previous Zazzle reviews re the tips relating to the importance of showcasing your products – think front page of a fashion magazine. All your best stuff needs to be right out front.
Collections Page 
I would group by theme or design here rather than product type – same reason as above. I do see an 'original art by' collection but it's empty. However great that it's there ready and waiting to be filled.
TIP: When we create collections they automatically become first in line re page layouts. You may however not want it there, so do use the 'organize' tab to move collections around so that the most important ones, the ones you most want to highlight are out front and try to keep related collections grouped together.
Now let's have a look at Paula's Products
Please do leave Feedback re this Zazzle Store Review below and share with other Zazzlers who may benefit from the tips.