How to tell what breed your Rabbit is
With the help of the lovely crazy bunny moms and dads over at the Rabbit owners Facebook Group I have created this gallery of rabbit breeds to help you to identify what type of rabbit you have.
If you have a rabbit that you are still unsure about, drop me a line via a comments and send a pic to me via creativeblogger@aol.com and I'll see if I can find out what rabbit breed it is for you.
Rabbit Breed Guide Books – for the Bunny Collector!
This gorgeous Belgium Hare is owned by Gemini Waterhouse.
Gemini has this to say about this breed:
"Not for beginners. Like a bunny version of a greyhound. Need way more exercise than smaller bunnies. Are very big- I had one that was 1m tall when stretched up on his hindlegs. They come in five colours; normal, like Firefly, which isn't really found in other breeds, black, red eyed white, black and tan, and blue and tan".
.
.
.
.
.
.
More wonderful Rabbit breeds by the members of Rabbit Owners Facebook Group
Netherland Dwarf owned by Jessica Rose Davey
English Lop owned by Helen Harper
Mini Lop owned by Candy Zampach
Lionhead owned by Amy Greenan
Double maned Lionhead owned by Amy Greenan
Cross Lionhead English Spot owned by Amy Greenan
American Fuzzy Mix and Holland Lop owned by Brienna Smith
Pure Beveren by Alexa Bigby Pure Beveren
Pure New Zealand by Alexa Bigby
Half Beveren and Half New Zealand owned by Alexa Bigby – above are mum and dad!!
Harlequin New Zealand Rex mix. Right is Holland Lop owned by Chelsea Ruedy
Polish Bun owned by Georgia Craigie
Because we are Crazy Bunny Ladies – here are some awesome Customizable Bunny Owner T-Shirts – add a name!
I Love Bunnies Tank Top
by
eddyrambo
Browse more
Bunnymama T-Shirts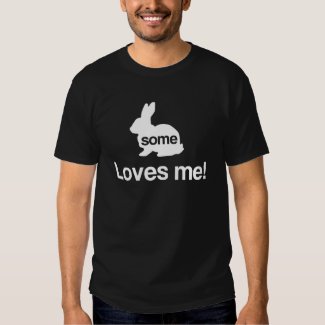 Some Bunny Loves Me T-Shirt
by
SporkfulDesigns
Put your favorite
photo on t-shirt
designs at zazzle.com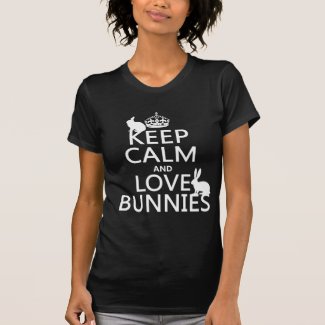 Keep Calm and Love Bunnies – all colors T-Shirt
by
keepcalmbax
Create one-of-a-kind
custom t-shirts
at Zazzle.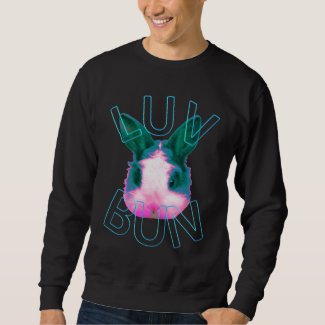 luv bun sweatshirt
by
wearethecatfish
Create your own tshirt
online at Zazzle.