Getting Old Is No Laughing Matter – Or Is It?  It is when you have these funny 50th birthday gifts!
There is a time for being serious and a 50th birthday isn't it. You should be celebrating your 50yr old pal who is hurtling towards a mid-life-crisis, drying up, watching their body giving in to gravity and forgetting what year they were born …. conveniently!!
It's a time to remind them they're getting old, forgetful and generally past it. And I've got some fabulously funny 50th birthday gag gifts which do exactly that! Nothing wrong with a sense of humor at this 'sensitive' time.
If you want to be 'nicer' about it of course you can page down to our Fabulous Fifty gift section.
Funny Over The Hill Gifts
Personalized 50th Birthday Gifts
All the gifts via this link can be customized by adding name, year of birth and more. Being fifty isn't all bad of course, it's an age when you feel comfortable in your own skin (it's looser after all) and you can start looking forward to a more relaxed lifestyle.
50th Birthday Gift Ideas for Dad
Well now, dads are pretty settled in their routine by the time they reach 50yrs old and if they have any hobbies, you'll know about them. If they enjoy retiring to an allotment, spending time in the garden shed, have a man cave in the family home, fishing; then something to make their alone time more comfortable and engaging will be perfect! Men do value their alone time, all be family time just as precious.
With this in mind consider the following …specialist headphones, novels, music, a new golf bag, football season tickets, a new fishing rod and so on. You can see where we're going with this right? All things that show dad that you understand his need to be alone and that you're ok with it!


Funny  Menopause Gifts
These Funny Menopausal Woman 50th Birthday Gag Tshirt Gifts For Women are my inspiration.
They play on the fact she will soon be going through the menopause, having hot flushes and generally getting older! It's funny for those with a sense of humor! You can edit the text to include your friend, family members name.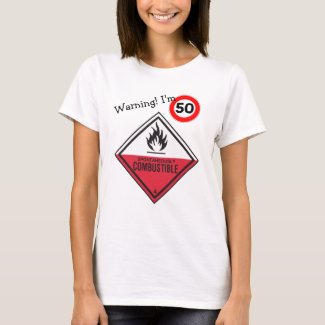 50th Birthday gifts for Mom and Dad
No one knows your mom and dad like you do, so who better to know what type of gift they'd
enjoy? The question is do you want something funny for their 50th birthday or something commemorative, bit more sentimental that doubles as a keepsake?
A 50th birthday is a pretty big deal and your parent is going to be feeling like they've reached a pretty important milestone in their life. As their child, you're one of your mom and dads greatest gifts, greatest accomplishments and dearest passions.
A great gift for their 50th would be a reciprocal way of showing them that they mean just as much to you as you do to them!
With that in mind here are my 50th birthday gift ideas for mum and dad. The idea behind these gifts is to show them how much you love and appreciate them. I've added some funny 50th gag gifts too, you can give these as a surprise booby present.
50th Birthday Gifts For Mom
As a mom hurtling towards the big 50 … I can honestly say I'd love one of my kids to get me something with their names on it, a family tree of sorts. As such first up are some personalized family tree gifts and engraved family name jewelry items. I have other cost-free requests … a week off from chores, for them to tidy their rooms unprompted, breakfast in bed… these things cost nothing and yet mean so much 🙂 Mom's are easy to please. Do all this, throw in a handmade card and you're sorted. But your mom deserves a little more, so check out my selection. Dads 50th is up next!
DNA Testing!
I have included in this gift selection a guide about DNA testing to discover your mom or dads ancestry and origins. I recently had my DNA tested and I find the whole thing fascinating. The tests can be a bit costly as a gift to self and so make a great gift from you. It will definitely be a talking point for years to come.
Birthday Gift Baskets For Mom and Dad