Surprise your Priest with a wonderful commemorative keepsake gift on their anniversary
If you want to buy your Priest a gift which has religious significance and commemorates their ordination anniversary then you're in the right place.
Featured here are many unique and practical gift ideas for Priests (and other members of the clergy) to commemorate both being newly ordained and the anniversary of their ordination. Whether it be a particular milestone such as silver or golden jubilee, there is something your Priest will enjoy and value here.
I have designed many of these gifts myself to ensure your needs are met and posted them for sale via Print on Demand site Zazzle. Zazzle is a reputable store with a 100% money back guarantee.
Commemorative and Practical gifts for Priests
Gifts for Priests available from my Zazzle store include personalized watches, journals, blankets, rosary bead boxes as well as practical stationery items and ornaments. They all have text template fields that can be edited to suit the exact number of years ordained (or other occasion) and space for a name, dates and you can if desired add some scripture, a verse or personal greeting. To view the items clearly click on the image.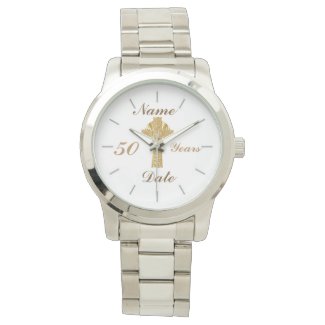 I have created a number of
commemorative watches
for Priests featuring a cross and other religious images as appropriate.
 .
You can choose from many different watch styles when you enter the Zazzle store. They have a wide range to suit all tastes, both modern and vintage.
 .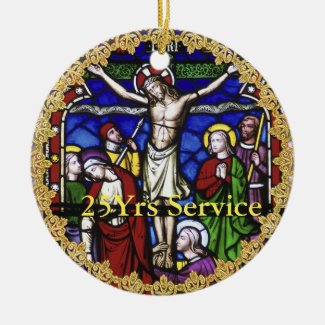 Decorative stained glass themed ornaments
are a popular and cost effective choice for a Priest gift and include text commemorating milestone anniversaries, 10th, 15th 25th, 50th (Silver and Golden Jubilee) and more.
.
Both sides of the ornament can be edited. You can add a photo, commemorative message, Bible verse, religious scripture or other as desired to the other side.
Personalized Stationery Gifts for Priests
I have created a wide range of stylish yet practical office
stationery gifts
that your Priest can use while performing his religious duties. Items include:
Rulers
Pen holders
Binders and more ..
Unique Gifts For Priests That Won't Gather Dust – my top 5!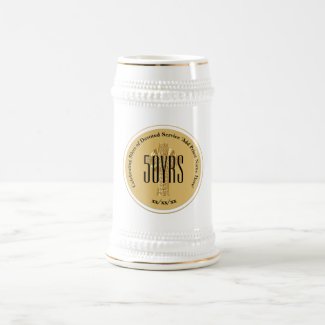 Priests receive many religious themed gifts each year, including icons, religious art work and verses which they appreciate but which can accumulate.
I have read of one Priest who has many storage boxes filled with such gift items. If you want your gift to be seen, enjoyed and not gathering dust in a dark closet, check out this list for inspiration.
I have my top 5 Gifts For Priest followed by Golden Anniversary of Ordination Gift Ideas and more.
Many Priests enjoy keeping a journal, details of sermons, important visits, ceremonies, favorite verses and so on. As such an attractive journal is a practical gift which will be enjoyed. If the journal is personalized with a name, inscription and so on, it has the added value of being a keepsake.
This stylish journal has been Handcrafted by artisans in America from cherry wood. It has a natural beeswax finish that highlights the attractive woodgrain. It lies flat when open and has a generous 140 lined pages of archival cotton paper.
Personalization Information:
The cover may be personalized with a name, personal message, date of celebration etc. If the gift is for a Priest's Golden Jubilee for example you can add the date of ordination and the anniversary date.
Many Priests enjoy a game of cards and as such a personalized deck is a great idea to commemorate a special occasion. The gift is functional, fun and makes a great keepsake!
You can add your own image to the front as well as editing the text template fields.
Add a special inscription to commemorate the occasion.
A gift card may seem impersonal but it is a great way to allow your Priest to buy something he / she really wants or needs. They are always appreciated and are less impersonal than giving money.
The value varies and you can find something to fit your budget. These can be given via email or sent with a card.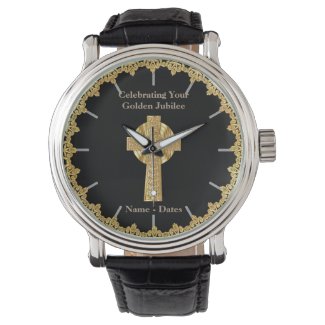 Zazzle has a wonderful range of watches which can be personalized by adding images, text and changing the background colors. Different styles, strap types are available. Featured here are a few religious themed watches which may suit a commemorative anniversary of ordination gift.
This is a great practical gift, stylish too!
5. Stained Glass Design Jigsaw Puzzle Priest Gift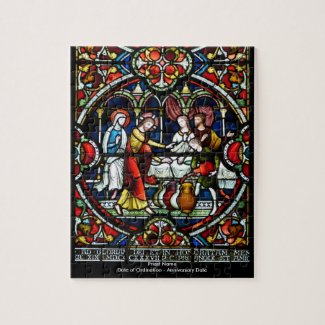 Stained Glass Window Jigsaw Puzzle personalized with the Ordination Anniversary details of your Priest. A fun gift, unusual and a great keepsake!
The stained glass window offers a great challenge to fans of Jigsaw puzzles and there are more in this range.
Click on the images to view the full range of Priest Anniversary Gifts
This is my top 5 but there are many more great ideas in store
Your Priest does have a sense of humor too, so don't be afraid to buy something that is funny. Stay away though from controversial topics which he may find embarrassing. Other suitable gifts include gift certificates, other items related to his/her hobbies. If your Priest enjoys music (many do) an iPod, Musical CD or other music themed gift may be appreciated.

The Priest Gifts featured on this page can in many cases be customized by changing the text or you can add a photo. In some cases you can also replace the photo /image with one of your own and change the background colors. You can edit the text to include the Priest's name, date of ordination, number of years ordained and so on. Also featured here are more generic religious Christianity themed gifts including books, plaques and more. Personalized Rosary bead boxes are very popular as a Priest Gift.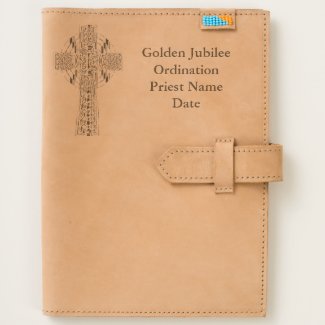 If you have any ideas for other Roman Catholic, religious life gifts for clergy for occasions such as a thank you, anniversary, newly ordained, Christmas, birthday drop me a line here.