How to choose the perfect wedding gift
Many wedding couples getting married in todays modern world will have a wedding gift list, which they will make sure you have 🙂 This can take the heat of deciding what to buy but it also takes the 'romance' out of gift buying.
The couple getting married will know what you spent and so on. There is no element of surprise or of hiding the value of the gift. You are allowed to not purchase from the 'list'. Only you know how the couple getting married will feel about that. All being fair, they should not mind.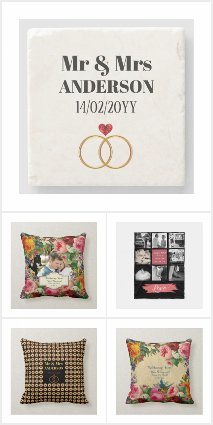 Personalized wedding gifts make wonderful keepsakes
If you are choosing something that is not on the wedding gift list opt for a personalized wedding gift. These are not nearly as expensive as you might think, not today when printing is so much more efficient.
A personalized gift is memorable, unique and due to the personal nature is guaranteed to be warmly received by the marrying couple.
Here are a number of regular wedding gifts as well as personalized wedding gifts. It is the 'personalized' aspect of these gifts that makes them priceless. The 'cost' will never be a consideration as the 'thought' that went into the gift is very much appreciated.
Some of the gifts allow photos to be added as well as commemorative text. Modern designs as well as traditional vintage roses complete this perfect gift ideas selection.