What gift can I buy for my Best Friend that is really special and unique?
This question was asked recently on a forum and I answered it as follows:
"I have a unique gift for BFF's that I designed myself. I generally don't promote my own designs here but this one is really popular among friends. It is a wordcloud (chalkboard or graffiti style ) pillow with template fields so you can edit in you and your BFF's names and anything else that relates to you both. You can also get it as a other gift items, not just a pillow but the pillows are the most popular. Check them out here:"
You can see some of these fun BFF gift here, they're super great 🙂 You can read a review about them too.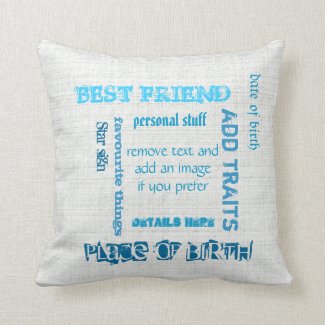 Personalized BFF best friends wordcloud chalkboard Pillows
by
XmasGiftIdeas
View Bff Pillows online at
zazzle
Reviewed by hamkin254 3/24/2015
Product Quality: Excellent
Print Quality: Excellent
Recommended: Yes
Recommended for: ANY occasion
Shipped on time: Yes
About the product:
My best friend's birthday was coming up, and after not seeing her for quite some time, I just knew that I had to select a unique and meaningful gift. And this pillow DID NOT disappoint. I was able to pick a size/fabric and customize the ENTIRE thing, right down to the numerous inscriptions (front and back) and the font/font color choices.
I must admit that with all of these options, I spent close to an hour planning it all out. But it was an hour well spent. When the pillow arrived at my home, I wasn't sure what to expect. I just knew that I was VERY excited. I ripped the outer packaging off and was COMPLETELY blown away.
It was just BEAUTIFUL!
I was able to say everything that I needed to say about her and our 20+ year friendship in just a few words/phrases. She was actually given her special gift today and was brought to tears. It made my heart feel good and it was a priceless moment between friends. I would HIGHLY recommend this gift for ANY occasion.
About the print:
I chose different shades of purple (our favorite color) and coordinated these colors throughout the different words/phrases. The many color choices, combined with the huge selection of fonts, really brought this pillow to life. It literally spoke for itself.
Here are some fun BFF friends forever pillows by other designers.