Today's Designer spotlight is on Karla White, page down for artist bio
"I am a total geek – a Network Compliance Analyst by trade who spends hours at a time picking though technical details – a part of my personality that bleeds through in my designs at times. What inspires me is nature (butterflies and flowers can take my breath away) but I have a strong tendency towards order and can become quite immersed in the process of creating patterns. I am fascinated by the simple designs that draw your eye, and by the patterns that make your stare for no apparent reason. I want people to buy something with my design on it and feel good about it. Something they will be proud of and want to show their friends. Even the simplest design can become a treasure.
I do mostly stylized florals, fractal generation/manipulations, gradients and pattern design. I dabble with anime and vector graphics. My store is quite colorful and eclectic – I haven't quite found my niche – other than I LOVE PURPLE, but I'm not trying to force it. I can obsess over the smallest of details no matter what I'm designing.
I am grateful for the opportunity to be considered for a feature.
My fave/popular picks:
Dimensions of Purple Personalized Rhinestone Watch
This is designed iwth a detail of the fractal work that I'm most proud of – and it's all about purple: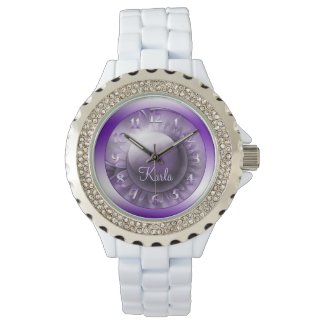 Dimensions of Purple Personalized Rhinestone Watches
by
karlajkitty
Look at more
Watches
at Zazzle
Purple Kitty Custom Mousepad
I had a request to paint a purple cat for a friend and this was one of the versions. It's sort of anime and the look on his face is priceless: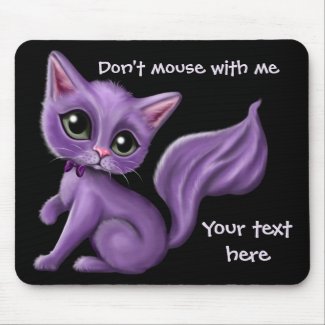 Purple Kitty Custom Mousepad
by
karlajkitty
Find other Purple Mousepads at
zazzle.com
Oak Look with Frame Wallet Case
I created this on a whim (okay, I thought the frame looked cool), and it has become my best-seller
Oak Look with Frame iPhone 6 Wallet Case
by
karlajkitty
View Wood Wallet Cases online at
zazzle