Trending Painterly handdrawn watercolor flower art Pillows by Trending2016
In simple terms 'Painterly' refers to an item that has been painted without regard to lines. The paint will go beyond the drawn image and flow into the background. It may even be completely separated from the drawn image. It will also have a brush stroke effect.
I regard painterly art to be non-conformist, free-flowing and quite beautiful. For a greater understanding refer to Wikipedia's explanation below: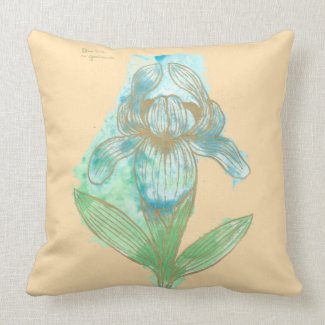 "Painterliness is a concept based on the German term malerisch (painterly), a word popularized by Swiss art historian Heinrich Wölfflin (1864–1945) in order to help focus, enrich and standardize the terms being used by art historians of his time to characterize works of art. It is the opposite of linear, plastic or formal linear design.
An oil painting is painterly when there are visible brushstrokes, the result of applying paint in a less than completely controlled manner, generally without closely following carefully drawn lines. Works characterized as either painterly or linear can be produced with any painting media, oils, acrylics, watercolors, gouache, etc. Some artists whose work could be characterized as painterly are Pierre Bonnard, Francis Bacon, Vincent van Gogh, Rembrandt, Renoir, and John Singer Sargent. In watercolor it might be represented by the early watercolors of Andrew Wyeth".
Good News Iris flower, Floriography Inkblot Art Throw Pillows by MessagesInPetals
I am delighted to see a great many painterly items appearing on Zazzle as painterly is trending in patterns for home decor, clothing and accessories. I don't however see the term'painterly' used in descriptions or tags which can make them hard to find. Hence my brief introduction here in the hope fellow designers can add this important descriptive tag.
In the meantime I would like to introduce you to 'Messages In petals' where 'painterly' is taken in a new direction and is sure to trend fall 2015 and early 2016 for Spring home collections. Painterly fashion has been around but has yet to take us by storm … hence I am predicting that it will trend more successfully in future seasons.