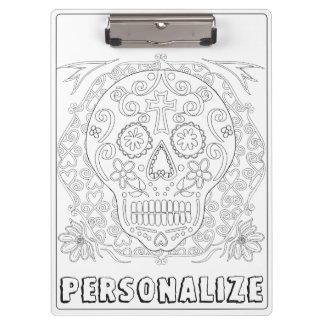 CHECK out current SALES on HERE
Coloring for adults is a fast-moving trend right now. Adults are reliving their childhood and once more enjoying the tranquil activity of coloring pages. It is said to be great stress-relief and I know that to be true as any focused activity like coloring is sure to take your mind away from other thoughts – perhaps troubling ones. Coloring is therapeutic as are many crafts.
Featured here is a practical application for your coloring hobby. You can color your own clipboard – perhaps while sitting through a lengthy seminar! Once colored you have a wonderful colorful clipboard, unique to you.
Designer Description: Sugar Skulls are used in Dia de los Muertos (Day of the Dead) celebrations, which is a Mexican holiday tradition honoring loved ones who are deceased. This sugar skulls coloring design features a skull decorated with elaborate scrolls, flower designs, and a cross. The candy skull is showcased in front of a pattern fill of hearts and scrolls, surrounded by a scroll border with flower blossom elements filling the corners. Embrace the special memories of the loved ones you're missing as you color this sugar skull coloring design.
Designers Description: Entwined in Love is an intricate hand drawn mandala coloring design featuring hearts, ribbons, bows, and lace. An abstract flower design in the center expands to a group of six entwined hearts with stitched accents in the center. The next section displays six larger hearts with lace and bows in their centers. Beyond that is an intertwined design of ribbon and diamond shapes offset with swirls of dots. More ribbons, dots, and lacy hearts fill the outer corners, and the design is enclosed in a ribbon border. The "Entwined in Love" mandala design was hand-drawn and digitally enhanced for crisp and sharp lines at any print size. Let go of your stress and let love into your life as you focus your energy on adding color to this detailed hearts coloring design
Designers Description: This amazing pinecones coloring design is a mandala style drawing of seven stylized pine cone motifs bursting out from the center. There is second row of pine cone shapes offset with swirls and other decorative shapes. The entire design is encircled by a tribal border of lines and shapes forming a circle. How will you be inspired to color this mandala style pine cone coloring design?
Designers Description: This sea turtles coloring page features seven swimming sea turtles alternating with whimsical swirls to represent splashing water and waves. The "Sea Turtles Splash" circular mandala design was hand-drawn and digitally enhanced for crisp and sharp lines at any print size. This is a fun and whimsical design for any one who loves turtles, sea life, and the ocean. Enjoy adding your own touch of color to this cute sea turtle splash coloring design.