It is not too early to be thinking about and ordering personalized gifts for Christmas.
This is when it gets very busy for print-on-demand businesses so you must order early to avoid delays.
I myself have already ordered my personalized family ornament for the Christmas Tree! This is I hope the start of what will be a on-going family tradition in my home. Every year we will have a family photo taken and then print it out on a Christmas ornament to decorate the tree that holiday and every Xmas holiday thereafter.
I love the personalized Christmas decorations that Zazzle have because there is a great variety. I especially like the customizable ceramic ornaments as the print quality is superb and they're a good size. You can fit a good amount of personalized text on them. They make lovely keepsakes and family heirlooms!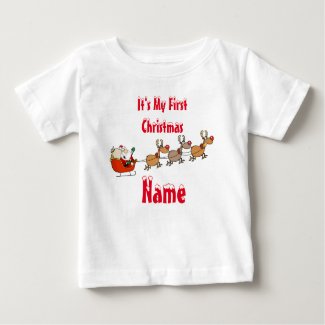 What I have for you here are ornaments, gifts, decorations and t-shirts I designed specifically for celebrating baby's first Christmas (You can edit them though for any occasion). Your new baby may not be aware of what is going on but they will enjoy looking back on their photo keepsake items when they do become more involved with Christmas.
If you have any trouble editing these drop me a line. Loads more lovely personalized gift and keepsake ideas in store, take a peep.
For details of current SALEs

(Up to 60% off today!!)

and Special Offers Visit Zazzle's Coupon Page.