Don't get stuck for words this Christmas with these handy Corporate Holiday Card wording samples
Christmas holidays are a great time to say thank you to your team and clients. You may choose to do this with a corporate gift or a seasonal card which expresses your gratitude and well wishes for the new year.
Choosing the design for your Company Christmas card can be a challenge as you want something that reflects the company's ethos and 'subtly' conveys details of the service or product you provide while at the same time maintaining the festive cheer of the season. This is why businesses start their corporate Christmas card shopping early! Many opt for template company holiday cards while others will hire a designer to create a corporate holiday card from scratch following a brief.
Corporate Christmas Card wording can also be a challenge which is why I've created this list of sample greetings to get you started!
One line+ length wording for Company Holidays Cards
Wishing you health, prosperity and joy in the New Year from your friends at …
Happy Holidays and Success in the New Year from the crew at …
Thank you for your loyalty this year and cheers to the next! Seasons greetings from all of us at …
It's been a pleasure serving you this past year, cheers to the next!
Thank you for your continued custom, please accept this coupon as a token of our appreciation (attach a money off, discount, service coupon or voucher) Happy Holidays!
We couldn't have done it without you! Thank you for trading with us, happy holidays, your colleagues at …
Let's make 2019 the best year ever together! Health and Prosperity to all of you from all of us at …
Thank you for you helping to shape our business and make it a success, we are eternally grateful and wish you success and joy in the New Year.
We greatly value your support and hope that our partnership is lasting and fruitful. Happy Holidays and future success from
Let's make 2019 a spectacular year! Cheers and Beers from ..
Short and Sweet wording for Corporate Christmas Cards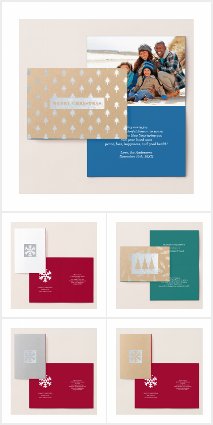 Happy Holidays
Seasons Greetings
Cheers to the New Years
Cheers and Beers
Joy and Peace
Happy Christmas
Happy New Year
Wishing you good cheer through the year
Warm wishes and thoughts
Tidings of Joy
Peace on Earth
Have a blessed holiday
Counting Our Blessings
Please add to these suggestions in comments below, meanwhile check out these trending Customizable Corporate Christmas Cards for 2018