Camping Accessories To Make Your Camper Pop
Personalized Vintage & Retro Camping Accessories & Decor
You'll be a happy camper when you see these adorable retro and vintage themed Camping Accessories and Decorations I've designed to brighten up your home from home!
Page down for vintage camping accessories and equipment from other merchants
I've used retro vintage colors Red, Teal, Cream and Green as well as creating Campervan Trailer co-ordinates with a shabbychic charm including English rose patterns and pastel shades pink, blue and lilac.
Popular Camper Camping Expressions To Brighten Up Your Accessories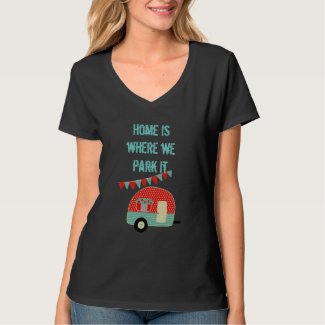 Home Is Where We Park It Funny Camper TShirt
All of my items can be personalized with your family name, a monogram or a fun camping themed expression, funny one-liner, meme, proverb. Here are some great ideas!
We're happy Campers
Campers like to Rock & Roll
We're movers and shakers
I'm in love with spaces I've never been to and people I've never met
There are only two seasons here, camp and not camp

What happens around the campfire stays around the campfire
CAMPING : when you spend a fortune to love like a homeless person
I'd rather be camping
Camp Hair? Don't care! (great expression for caps and hats)
May the forest be with you (love this Star Wars themed pun)
Always at home wherever we roam
I don't need therapy – I just need to go camping


Camping Wall Art Decals Personalized Family Name

Some of my camper accessory items already feature one of these fun camping expressions. If you know of more let me know them in comments!




More great camping decorations, accessories and gifts from other designers and merchants including Amazon




Wonderful Vintage Camping Backpacks and Rucksacks