Never be stuck for gift ideas again
Personalized gifts never disappoint!
There are so many gift giving occasions throughout the year that it's easy to find gift giving a challenge. This is why personalized gifts (not as expensive as you think!) are the perfect solution.
With names, photos and dates added, you create an instant keepsake gift that will be treasured by its new owner (not gathering dust in a cupboard).
And the great news is .. the range of customizable gifts, accessories and decorative items is always increasing! So every passion, interest, hobby is almost certainly catered for. From monogrammed ping pong paddles to photo collage passport covers, there really is something for everyone.
Page down to view what's NEW. Many items featured here and throughout this site have been designed by me (LeahG) to meet a specific need that has been communicated or that I've researched. Also featured are gifts are by talented designers and merchants incl. Amazon, Zazzle, Beaucoup. Enter the stores via any image or link.
NOTE: When ordering personalized gifts give yourself enough time for manufacture (they're made to order) delivery, checking the item and forwarding to the gift recipient. Check delivery times as they will vary for different products. Think ahead!
Popular Gift Trends for 2018
Monogrammed Phone Cases –
Ideal teenager, husband and wife personalized gifts
Personalized Photo Gifts, Accessories and Fashion
PHOTO Blanket 
– Perfect photo collage gift for Mother's Day, Wedding, Birthday, Baby Shower, Bridal Party and more.
.
Instagram Gifts –
Wall art, Pillows, and other decorative items personalized with your own photos and text. Add photos of family, friends, pets, selfies and your travels.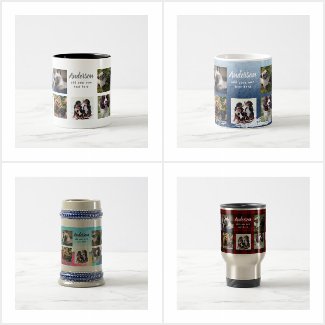 PET collage  –
Thoughtful for Pet Memorial and as a treasured keepsake.
Photo Watches
– Ideal commemorative gifts for retiring colleagues, childs graduation, parents anniversary as well as birthday and holidays.
Personalized Baby Gifts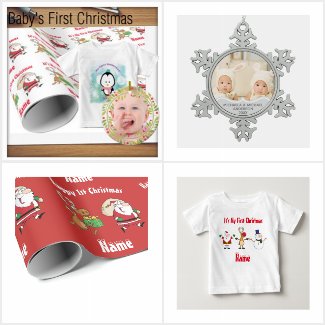 Baby's First Christmas 
– gift your son, daughter, grandchild or Godchild with a personalized 1st Christmas gift – add photo and name and year.
Godson Goddaughter Gifts 
– These gifts make treasured keepsakes and feature cute as well as religious themes. In many cases both!
Zazzle have a massive range of personalized, named baby gifts with trendy design themes for baby boy, baby girl, twins, godchildren from birth to their 1st Birthday. Included are gifts for specific occasions by Top Brands (Disney, Sesame Street) that you can customize as desired. Their brand names are all licensed too! Quality guaranteed.
Personalized Gifts For Kids
Kids love having personal accessories, room decor and clothing with their name on! This Personalized Gift Store has a wide range of wonderful GREAT VALUE named, photo and engraved gift items for children that are perfect for Birthday. Baptism, Christmas, Baby Shower and more. For Gifts you can add your own art, photos, images visit Zazzle for template gifts.
Personalized Gifts For Him

, Dad, Man, Husband, Son, Brother, Grandpa, Boss

Men are territorial creatures and that's why personalized gifts for him are perfect! They're marked … for him! 🙂 Shop Now view the full range of personalized gifts for men and the great gift sales now on.
Personalized Gifts For Her

, Mom, Sister, Daughter, Grandma, Friend, Boss, Wife

There are so many wonderful personalized gifts for women and girls in this personalized gifts store. Super popular items right now include personalized, named travel mugs, tumblers, totes and jewelry items.
Personalized Wedding, Anniversary, Vow Renewal Gifts
Personalized wedding gifts whether they're for newly married couples or those celebrating a wedding anniversary or vow renewal make wonderful keepsakes. Edit the text fields to personalize the gift to suit your specific wedding occasion.
Engraved Gift and Personal Accessories
Engraved names and monograms, special commemorative details are available on a range of metal and wood gift items including watches, jewelry boxes, cuff-links, glassware, chopping boards and more. These unique personalized gifts make wonderful keepsakes. Wedding Anniversary, Vow Renewal, Retirement, Weddings are especially suited to engraved gifts which hold sentimental and personal value.
Custom and Bespoke Handmade and Artisan Gifts
Handmade and Artisan gifts may include printing, engraving, embroidery, painted details and are available on a wide range of gift types including jewelry, wall art, home decor. There also also many artisan and handmade gifts designed to commemorate special occasions such as milestone birthdays, anniversaries, retirement, wedding, graduation and more. They have unique qualities that compliment the artist and the gift recipient's unique personal tastes.
Current Gift Sales
There's a personalized niche gift for everyone in your life. Whether they are family, friends, partners, colleagues, team members … they are catered for with a massive range of quality affordable personalized t-shirts, home decor gifts, personal accessories, party items and more. Benefit form the great gift sales now on!
Why Personalized Gifts are The BEST
They're Unique, Wonderful Keepsakes And Cheaper Than Ever!
Personalized gifts do not cost what they used to before technology caught up and now you can pretty much have anything you like personalized at little over the original item price. And the tools for personalizing gifts yourself online are easier to use than ever. Combined this makes personalized gifts the best gift choice and here's why!
They are tops when it comes to the 'thoughtful gift'
Personalized gifts show that the buyer values the gift recipient and is thinking about their preferences, needs and passions when choosing their gift. For the gift recipient, a personalized gift quickly becomes a treasured keepsake due to its unique personalised nature.
Every time they look at their custom gift they will feel loved, appreciated and respected. These are the things that personalized gifts express.
And that's not all …
2. Tops for sentimental value
If the gift has been personalized with precious family photos capturing special moments or feature a personal message then the gift has great sentimental value.
This is especially true for personalized memorial gifts, wedding anniversary gifts and retirement gifts.
Many gifts you can have personalized today are also practical and as such dual purpose. For example you can have tea towels personalized with family photos or a chic family monogram, family crest, a picture your grandchild drew. A tea towel bought on the high street with no personalization features will be quickly forgotten along with who gifted it, but add the personalised features and it will be treasured like no other. We have a whole house (almost) of practical gifts you can personalize here.
4. Personalized gifts are ageless
It doesn't matter whether you are a child, adult or a retired person, we all love gifts which have our name on, photos of our pets, children, family and more. We like things that are familiar, that trigger warm fuzzy feel good vibes.
5. Lots of ready-made designs
Some personalized gifts are a blank canvas and you add your own design however you can also find lots of wonderful themed and special occasions gifts which have designs on them already. They have template fields for you to add your personal details. The designs are created in many cases by talented designers who will be happy to assist you with bespoke refinements.
How are the gifts personalized?
There are many ways that gifts are being personalized online which include engraving, printing, embroidery, carving. On this site you will find all the latest and most sophisticated personalized gift options. You can design your own jewelry, create baby stat blankets, even design your own fabrics. It is all here. Check out the side menu and page tabs for niche items. If you're looking for something specific and you can't find it here, drop me a line.
Where to start? Here is a good place!
AMAZON – HUGE PERSONALIZED GIFT RANGE
Use the Gift Search Tool to FIND your perfect Gift.
There are thousands of customizable, personalized gifts to choose from including Artisan Gifts, Popular Brands, Clothing, Accessories, Electronics and Home Decor.
You can add photos, names, dates, personal greetings or your own images and designs. In many cases you can change the product color, style and size.
Wedding Anniversary Gifts – Commemorative
Zazzle has a wide range of wedding anniversary gifts which cover all the milestones and many which can be personalized to suit any number of years married. Featured here are two popular personalized Golden wedding anniversary gift ideas. One allows a photo and text to be added, while the other simply has a text field. For more great anniversary gift ideas ENTER HERE.
Personalized Name Gifts for Baby's , Children and Teens
Baby shower gifts become wonderful keepsake gifts when they feature the new baby's name. Zazzle has a wide range of personalized baby gifts for boys, girls, twins and even triplets. Christmas Baby's are celebrated with tree ornaments and other holiday decorated items. View the full baby gift range HERE.
Buying gifts for teenagers can be a tricky business but with some subtle hints from them you can buy them a unique personalized gift they will love. Gadgets and iPhone, iPad cases are a popular choice as are wallets and sports bags. View the full range of Teenager gifts HERE.
Personalized Home Decor Gifts
Zazzle has  wide range of home decor items including pillows, blankets, fabric, lamps, night lights, shower curtains, floor mats, bath mats, clocks and more. These make great wedding gifts, new home gifts, baby or child room decor gifts as well as being niche gifts to yourself featuring a favored photo, work of art or niche theme that is not available anywhere else! You can create a unique room design scheme by designing your own furnishings and accessories.
Personalized Business Merchandise, Team Gear and Boss Gifts
Zazzle have a massive customizable clothing range which you can use as gifts, for sporting team purposes, business promotional events and more. You can add logos, team emblems or choose from the wide range of existing themed designs available on site. View the full range of personalized clothing HERE.
For corporate gifts, co-worker and team member gifts, check out the sporting goods which feature sports bags, water bottles, can coolers, ping-pong paddles and more! View the full range of personalized sporting goods HERE.