Teachers TOP RATED GIFT is personalized stationery
I have done a lot of research into the types of appreciation gifts that teachers welcome and aside from handwritten thank you notes, items handmade by the children their most valued and appreciated gift is stationery that they can use in the classroom. If the stationery is personalized with the teacher's name, the students name, or the class and school details then it makes it a more unique gift.
What NOT to buy your teacher this year
Gifts that teacher's receive a lot of may include mugs and ornaments. These are greatly valued and appreciated by teachers but can tend to accumulate. Teachers can quickly run out of storage space for all those mugs and ornaments, which is a shame as they do appreciate and treasure them all the same.
Many teachers re-gift things they receive from parents and students due to their unsuitability or lack of storage space. Perfumes and bathroom smellies are also in this category due to personal taste and allergy issues. Food and wine may also present the same problem.
How to avoid your teacher gift being re-gifted
You can avoid spending money on a gift that will later be -regifted by instead buying your teacher something they can use and need. Stationery is the perfect appreciation and thank you gift for teachers. It has a practical use and often requires replacement at some point, as such no clutter and no waste.
Below is a selection of some popular, top rated stationery gifts for teachers. Click on the images to view the gift in greater detail and view the personalization tools.
Personalized Post its are very popular as they're used a lot as are stickers and pens, pencils!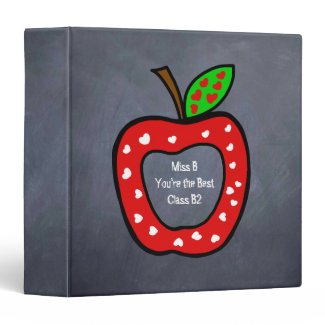 Stationery Gift For Teacher – personalized 3 Ring Binder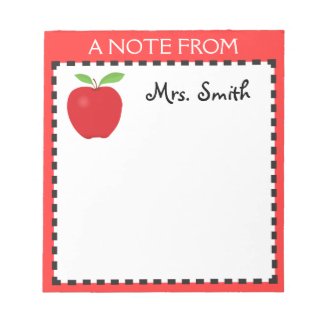 Apple notepad for a Teacher – personalized
Merchant:

Zazzle

Price:

$10.75
Merchant:

Tiny Prints & Wedding Paper Divas

Price:

$11.99
Merchant:

Zazzle

Price:

$5.25
Merchant:

Zazzle

Price:

$5.55